Inviting You to Experience the Future: Join us at the highly anticipated Infocomm Digital Signage Exhibition, taking place from June 14th to 16th, 2023. As a leader in the digital signage industry, we are excited to showcase our groundbreaking innovation: the HD Transparent LED Screen.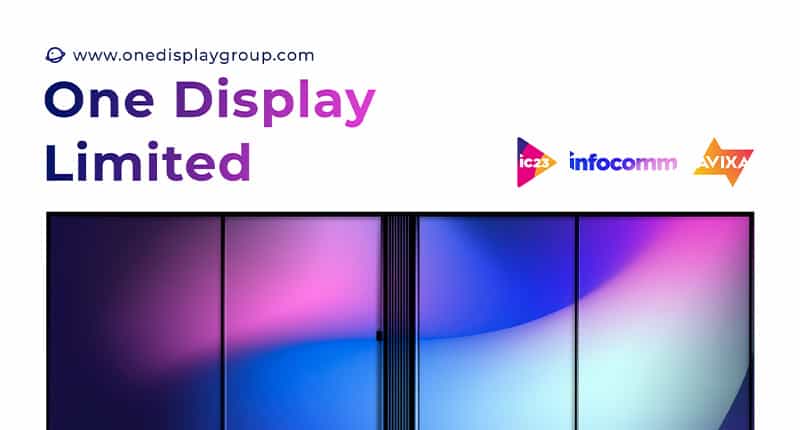 🌐 Our HD Transparent LED Screen represents a revolutionary leap in display technology, seamlessly blending real-world surroundings with stunning visual content. With its exceptional transparency and vibrant image quality, this cutting-edge solution is set to transform the way businesses engage with their audiences and create captivating experiences.
✨ At the exhibition, you will have the exclusive opportunity to witness firsthand the power and potential of our HD Transparent LED Screen. Our booth will be a hub of innovation and inspiration, featuring live demonstrations, interactive experiences, and in-depth presentations by our experts. Prepare to be amazed as you discover the myriad of applications this breakthrough technology offers across various industries.
🎯 Whether you're in retail, hospitality, entertainment, or any sector that values impactful communication, our HD Transparent LED Screen can elevate your brand presence, captivate customers, and drive meaningful engagement. Don't miss this chance to explore its limitless possibilities and gain a competitive edge in an increasingly digital world.
🤝 We would be honored to schedule a personalized demonstration for you and your team during the Infocomm Digital Signage Exhibition. Our dedicated experts will be on hand to guide you through the features, benefits, and customization options of our HD Transparent LED Screen, tailored to suit your specific needs.
📆 Save the date: June 14-16, 2023. Block your calendar and make your way to the Infocomm Digital Signage Exhibition to experience the future of visual communication. Join us at booth [Booth 414 / Booth 787] to witness the magic of our HD Transparent LED Screen firsthand.
ADDRESS: ORANGE COUNTY CONVENTION CENTER
West Concourse Building, 9800 International Drive, Orlando, FL 32819
Get Directions
TRANSPORTATION
Airport
Orlando, FL, is accessible from around the world via the Orlando International Airport (MCO). Taxis from the airport to the Convention Center and International Drive hotels range in cost from $50-75.
Parking
Parking is available in the West Parking Lot, Rosen Center and Rosen Plaza Hotels. OCCC parking is now cashless and will only accept credit/debit cards, Apple Pay, or Google Pay.
View Map
Shuttle Services
Complimentary shuttle service is provided between the Orange County Convention Center and designated hotels within the InfoComm hotel block.
View Schedule
SHOW HOURS
WEDNESDAY
Exhibit Hall: 9 a.m. – 5 p.m.
THURSDAY
Exhibit Hall: 9 a.m. – 5 p.m.
FRIDAY
Exhibit Hall: 9 a.m. – 4 p.m.
END
✅ To stay updated on the latest developments leading up to the exhibition and to ensure you don't miss any exclusive updates, we encourage you to follow our social media channels and visit our website. We will be sharing sneak peeks, insightful articles, and behind-the-scenes content that will further pique your interest in our HD Transparent LED Screen.
Thank you for considering our invitation, and we eagerly anticipate the opportunity to connect with you at this remarkable event.
Well be at InfoComm 2023 booth #414/787. Use code ONE112 to register for FREE.