Product info
Product Type: O-Clear
Pixel Pitch: P3.9-7.8mm
Panel Size: Custom Rounds with Diameter 2m and 3m
Panel Quantity: 7pcs
Brightness: 2500nits
Package: Flight Case
Spare Parts for Peace of Mind
To further elevate your experience, the O-Clear comes with a range of spare parts, ensuring uninterrupted performance.
Spare Module: 416pcs The spare modules are your insurance against unexpected glitches. With 416 spare modules at your disposal, you can swiftly replace any malfunctioning components, minimizing downtime.
Spare Power Supply: 26pc Power supply issues can cripple your display. With 26 spare power supplies, you can rest assured that your O-Clear will keep running smoothly, no matter the circumstances.
Spare Receive Card: 26pc Receive cards are the backbone of the O-Clear's performance. With 26 spare receive cards, you're equipped to handle any technical hiccup and keep your display running seamlessly.
Spare IC: 95pcs IC chips are the brains behind the stunning visuals. With 95 spare IC chips, you have a reserve of the critical components that ensure your O-Clear delivers top-tier image quality.
Signal Line: 7pcs A reliable signal is non-negotiable. With 7 spare signal lines, you can ensure that your O-Clear maintains a stable connection for uninterrupted playback.
Spare Screws and Wires: Configure according to the situation Details matter, and the OneDisplay spares no effort in ensuring that you're equipped with the right screws and wires, tailored to your specific requirements.
Key features
Lightweight, Portability is key in today's fast-paced world. The O-Clear's lightweight design makes it easy to transport and set up, giving you the flexibility to create stunning displays wherever and whenever you need them.
Refresh Rate(Hz): 3840, Smooth, flicker-free visuals are a hallmark of the O-Clear. With a refresh rate of 3840Hz, this LED round screen guarantees that your content flows seamlessly, capturing the attention of your audience with fluid motion.
Applications Beyond Boundaries
The O-Clear transcends traditional display solutions and finds application in a multitude of settings.
Events
Create immersive stage setups and captivating backdrops that leave a lasting impression on event attendees.
Hotel
Elevate the guest experience with stunning visuals that make a statement in hotel lobbies and common areas.
Mobile Phone Shops
Attract customers with eye-catching displays that showcase the latest in mobile technology.
Auto 4S Shops
Highlight automotive excellence with engaging displays that captivate customers in showrooms.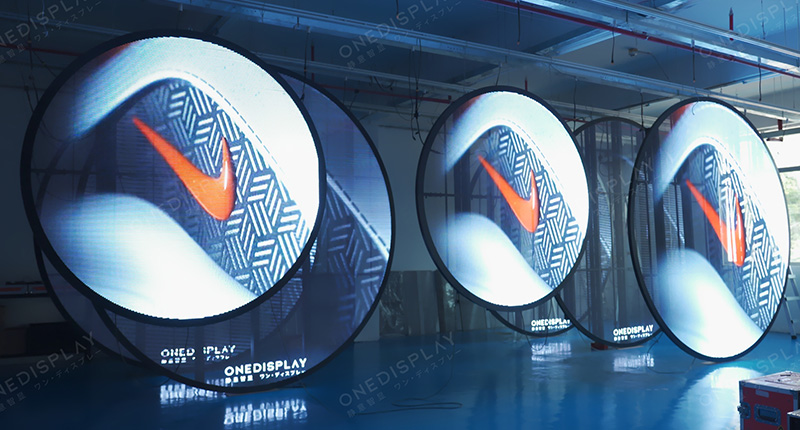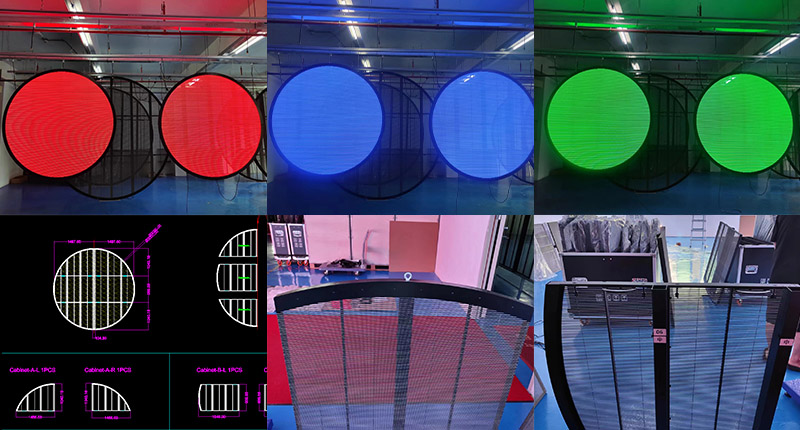 Our Commitment to Excellence
As a dedicated advocate for the power of the Round Transparent LED Screen, we take immense pride in serving our Japanese client, one of the TOP 3 Rental Companies in Japan. Their exacting standards and unique requirements have driven us to refine and perfect the O-Clear. We've worked closely with them, continuously improving the product through multiple iterations.
The trust they have placed in us speaks volumes, as they've not only purchased 3 customized samples but also ordered 7pcs Round Transparent LED Screens for their prestigious ventures. Their faith in our product is a testament to the quality and reliability of the O-Clear.
In conclusion, the O-Clear is not just a display screen; it's a revolutionary tool that can transform any space into a captivating visual experience. With its customizable features, robust spare parts, and versatile applications, it stands as a testament to innovation in the world of display technology.
To experience the O-Clear's magic for yourself, contact us today and unlock a world of possibilities in visual communication.