Product info:
● Product Type: O-Clear
● Pixel Pitch: 3.9-7.8mm
● Panel Size: 1000x1000mm & customize
● Panel Quantity: 97pcs
● Brightness: 4500-5000nits
● Package: Wooden Case
Spare Parts for Seamless Maintenance
To ensure uninterrupted performance and swift maintenance, we provide a comprehensive set of spare parts. With our carefully curated spare parts package, you can easily replace any component in case of unexpected issues. The spare parts package includes:
● 100 Spare Modules
● 7 Spare Power Supplies
● 9 Spare Receive Cards
● 2 IC Cards
● 12 Signal Line
● Configurable Spare Screws and Wires, tailored to your specific needs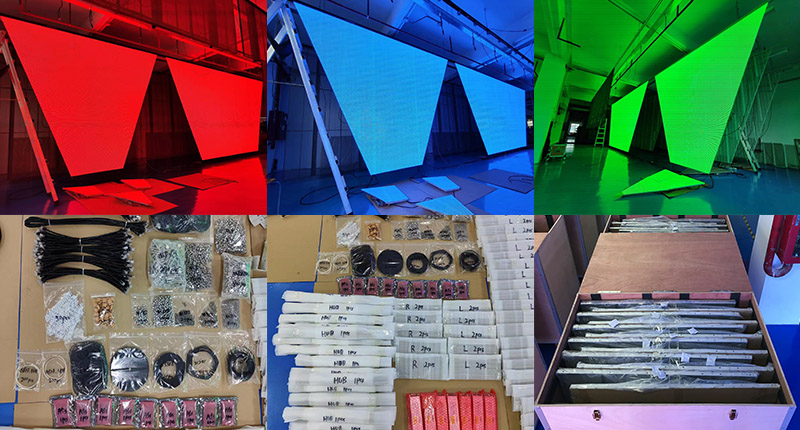 Key Features
Lightweight and Effortless Installation
O-CLEAR Series of High Transparent LED Displays is a versatile and practical solution. Its lightweight, easy installation and energy-saving features make it a great choice for various indoor applications, improving the visual experience without compromising the overall aesthetics.
Effortless Installation and Maintenance
One of the standout features of the O-Clear LED Display is its seamless installation process. With its lightweight and easy installation mechanism, setting up your display becomes a hassle-free endeavor. Moreover, both front and back maintenance options are available, allowing you to keep your display in pristine condition without disrupting its functionality.
Versatile Indoor Applications
Embrace the power of versatility with the O-clear Transparent LED Screen. Its wide range of indoor applications positions it as the ideal choice for brand retail stores, shopping malls, and even Auto 4S shops. Whether you're aiming to captivate shoppers, elevate your automotive showroom, or redefine the shopping experience, this screen is your ultimate tool.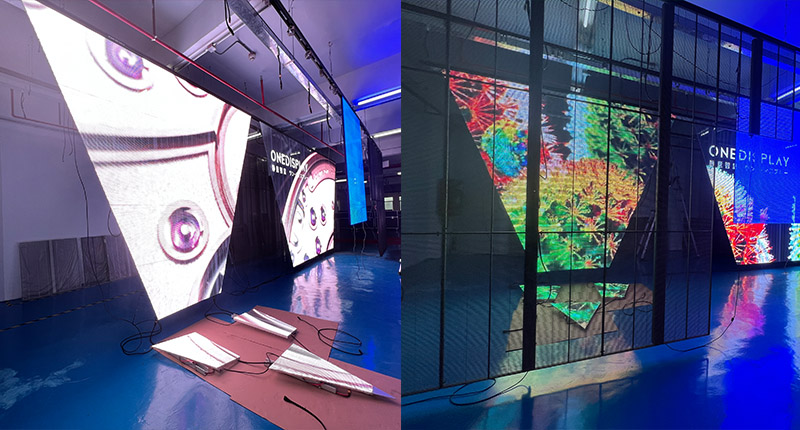 Building the Impossible: Triumphing Over Complexity
A Pyramid of Innovation
Imagine a monumental triangular LED wall measuring an impressive W 6 x H 7.25m, created with 4 customized High Transparency LED Display Triangles. This achievement itself is a testament to the incredible capabilities of the O-Clear LED Display. To make matters even more challenging, this Pyramid-inspired display boasts a high brightness of 4500nits and a pixel pitch of P3.9-7.8mm.
Upside Down Innovation
But the complexity doesn't end there. Installing an intricate pyramid-shaped display upside down pushes the boundaries of innovation. Assembling such a structure requires meticulous planning, precision, and expertise. At One Display, we thrive on such extraordinary tasks, embracing challenges that push us to redefine what's possible.
Collaborative Excellence
Our success story wouldn't be complete without acknowledging the invaluable partnership that led to our triumphant project in a total area of 87m². The collaborative effort involved in executing a project of this magnitude highlights the dedication of both our team and our partners.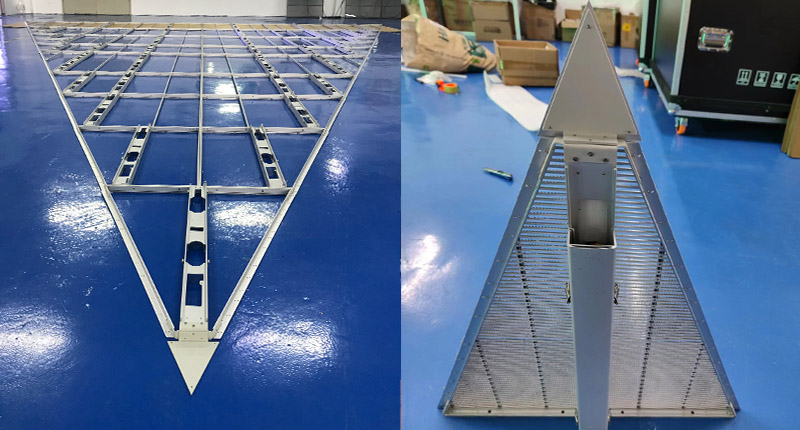 Embracing the Future of Visual Technology
In a world where innovation is the driving force, the O-Clear LED Display sets new standards for visual technology. Its adaptability, brilliance, and capability to overcome challenges make it the ideal choice for applications that demand excellence. Whether you're transforming public spaces, transportation hubs, or commercial establishments, the O-Clear LED Display ensures your content shines bright and captures attention.