Nowadays, the days of analog projectors are long gone with their choppy imagery, lack of brightness, and laggy display, in addition, in large events, the size of the projector was not large enough for the audience in the back row to see clearly.
Now, most churches are shifting to LED displays/LED walls to communicate and connect with their community in a more interactive and informative way.
Why Your Church Should Buy a LED Screen?
There are many churches that have over 20,000 attendees ever weeks. These are all people who have come to receive the word of God from their favorite and most trusted pastors. Without technological advances such as LED displays for churches, pastors will know it is extremely difficult to serve everyone at the same time.
As your church grows, so does the need to enhance people's experience. One of the best ways to engage congregations is to buy an LED screen. This cutting-edge technology makes your sermon points compelling and draws larger masses to your gatherings.
Before getting an LED display, there are several factors to consider and endless options to choose from. So, before you start searching, read this guide to understand what an LED wall is and why your church needs one.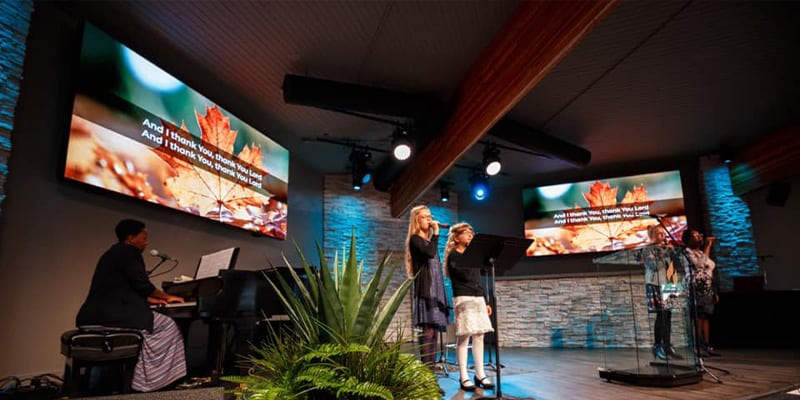 What is a Church LED Wall?
LED walls are extensive displays of light-emitting diodes (LED) that display visual content like pictures or videos. An LED screen is a wall of pixels created by connecting numerous module panels encased in cabinets, that seamlessly blend to offer the highest resolution available.
The best part about this is that even if you have a large community with people seated far back, they can see everything on the screen without any loss in audio or video viewing. This is great for distracted children, who'll be able to focus on the video content displayed on the church LED display.
How to Choose the Right LED Screen for Your Church?
Churches, especially large ones, need to find the right way to enhance the worship experience for their congregation. Outstanding LED screen displays will grab the people's attention at the back and foster an air of focus throughout the entire church.
The correct use of LED screens brings church events such as religious concerts, ceremonial gatherings, lyrics and charity work to life. The use of huge LED screens enhances the audio-visual experience in the church and keeps the audience captivated and engaged.
When you decide to buy an LED display, you should know your basic needs. Of course, it is also possible to seek support from a specialist team such as OneDisplay.
What are You Going to Use the Church LED Screen for?
Before deciding on anything, you have to ask yourself what will the LED screen be used for? Different content requires specific features to run them efficiently. This is especially important when you're deciding on the pixel pitch of the LED wall.
Will the LED display be used as the main stage backdrop? Or will it be used as a display for song lyrics and announcements? Answer these questions first before moving on to the next step. This will help you figure out the angle and positioning of the LED display.
We usually recommend a 2.9mm or 3.9mm pixel pitch for indoor video walls for churches.
Since LED walls are typically made up of individual panels, you don't have to strictly stick to the 16:9 aspect ratio. Because our LED panels are modular, you can configure your LED display in almost any size you can imagine! You can even set up and reconfigure you're display in a matter of an hour or so to give your worship and sermons a new feel month to month.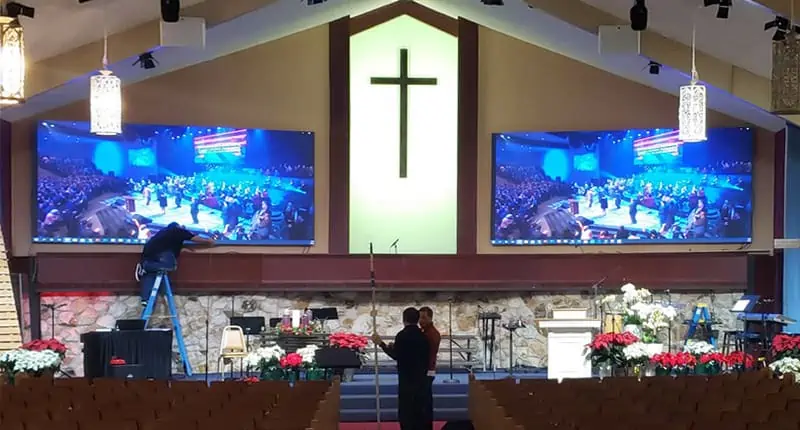 In addition the Viewing Distance is a crucial point. There's no point in having a tiny LED video wall that only people at the front can appreciate. You'll want to make sure the LED screen is large enough to accommodate everyone from the front row all the way to the back row.
Where Will You Display the Church LED Video Wall?
Most churches have indoor and outdoor services and events, so it's crucial to determine where you will install the LED display. If you want the display for events like movie nights and services, you will need an outdoor LED wall.
If you want it installed inside, the location of the display has to do with the pixel pitch and lighting source of the church. The pixel pitch, as mentioned above, accounts for the size and clarity of the content displayed on the screen.
What Kind of Environment will the Display be Housed in?
We need to consider is the environment in which the LED screens or LED walls will be used. If your church is like most churches, it probably has lots of huge windows that let in quite a bit of ambient light. Because of this light pollution, you'd have to cover the windows when using a projector and make sure the lights are dimmed down as well. Standard projectors aren't bright enough to engage audiences, as they hinder easy reading. Most products have less than 100-150 nits. As a result, they're only suitable for dark rooms.
By contrast, large LED screens in churches are known for their excellent video quality. LED walls are incredibly bright. An indoor LED wall has a brightness of around 800-1,500 nits, while an outdoor LED from 2,000 nits and can go up to 5,000 nits, so there is no need to reduce ambient light to improve the viewing experience, the viewing quality of our screens is not compromised.
Ps: (A nit is a unit to measure light, which assesses how much candlelight per square meter a screen can emit. So, an indoor LED with the ideal lowest brightness emits the light of about 1,000 candles per square meter. Can you imagine that? This makes it easy for the congregants to see the screen easily.)
Another factor that must be considered is the structural integrity of the stage or mounting points where the LED screen will be installed. If you intend to have the LED wall on the floor, ideally it won't be installed on a temporary stage. Also, if you intend to hang the LED screen from your ceiling grid or truss structure, you'll just want to consider the weight load it's rated for. But, since our Led Screen Panels are so light, this is hardly ever a barrier.
Budget and Cost-Effectiveness
Your budget is probably the most crucial factor in purchasing an LED display. Churches come in different shapes and sizes, so an LED wall is not one-size-fits-all.
The budget varies with the kind of display you want—a display of higher resolution will cost more since the smaller the pixel pitch, the costlier the display.
But, after a certain point, the pixel spacing doesn't matter because the naked eye can't tell the difference. We don't need an overly expensive display!
Advantages of Getting a Church LED Wall Display
They don't Consume much Power
LEDs don't consume much power, which is surprising given their size. These require about 40% less energy than Plasma TV, projectors, and LCDs.
LED Walls Last Longer than Projectors
If you're still on the fence about getting a projector instead of an LED display, know that an LED display has a lifespan of almost three projection set-ups.
Optimized Visibility and Colors
LED products support stunning ranges (up to 6000:1), allowing you to present images in more detail, shading, and color. Robust LED panels can handle 16-bit color depth processing and maintain optimal grayscale without ruining the quality of your images.
Hence, your congregation can effortlessly keep up with scriptures, live feeds, and song lyrics. This is another reason they're superior to a conventional display solution that often looks blurry.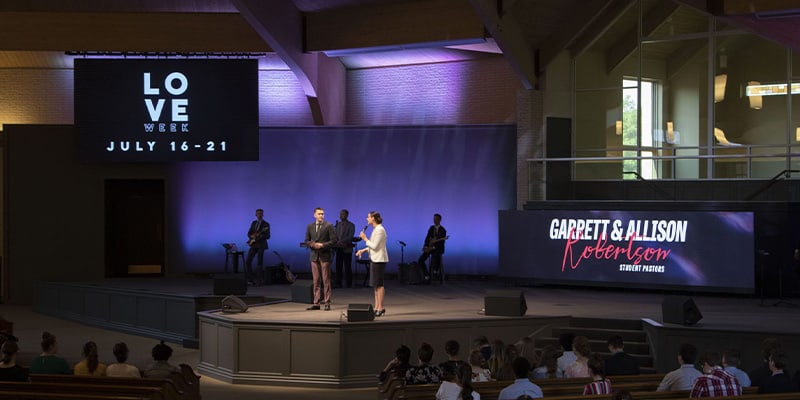 Perfect for Indoor and Outdoor Services
LED solutions are becoming increasingly popular due to their flexibility. They provide an engaging space for congregations to gather and worship, both inside and outside. If you want to set up an indoor session, here's what you can use LED Screen for:
Speaker presentations: An LED display lets you broadcast camera feeds of guests or other speakers with exceptional clarity. It also allows you to supplement your lyrics and presentations with captivating visuals.
Special events: LED products are ideal for enhancing special occasions, such as weddings, plays, and baptisms. People with poor eyesight or in the back of your house of worship can enjoy the celebration as well as other guests.
Distant worship: Christmas and Easter attract huge crowds, and you need to make sure everyone has the same experience. You can install LED panels for churches in an overflow room to do so. Another great idea is to broadcast live feeds from your sanctuary, so your congregation can pray in a high-quality setting. Coupled with other devices, you can also stream events to members who couldn't attend. This is especially useful for disabled people and older adults.
LED video isn't meant for indoor sermons only. It's also perfect for bringing worship outside your church. When hosting outside events, your congregation comes together in a casual environment and enjoys crystal-clear images.
These are just some ideas for using an LED screen for an outdoor church service:
Holiday celebrations: As discussed earlier, you generally expect large gatherings during Christmas and other major holidays. If your church can't accommodate many people, holding an outdoor service with large LED screens for churches is an excellent solution. There's more space, and your audience can easily keep up with your speech due to higher video quality.
Community-wide events: Church isn't just about praying and sermons. You can also invite the community to faith-based movie nights, carnivals, and commemorate Biblical achievements or other outdoor activities. But you can't do so without powerful video technology, and LED is your best choice. It can take any event to the next level with vivid colors, adequate contrast ratios, and outstanding brightness. This makes the sessions highly entertaining, attracting more people to your sanctuary.
Final Words
LED walls are actually quite simple, if you know roughly how big and where you want it, the rest is finding the right parter who will do it right. OneDisplay LED Solutions has been a premier LED partner for over 8 years. If you want to see more  LED screen for church details you can click here.