In the past years, Ultra HD LED Display has presented a significant wave of demand across countries and firms. Its sound performance gave a breakthrough to other LED Displays to move forward and develop. So, let us know why the Ultra HD Display became popular!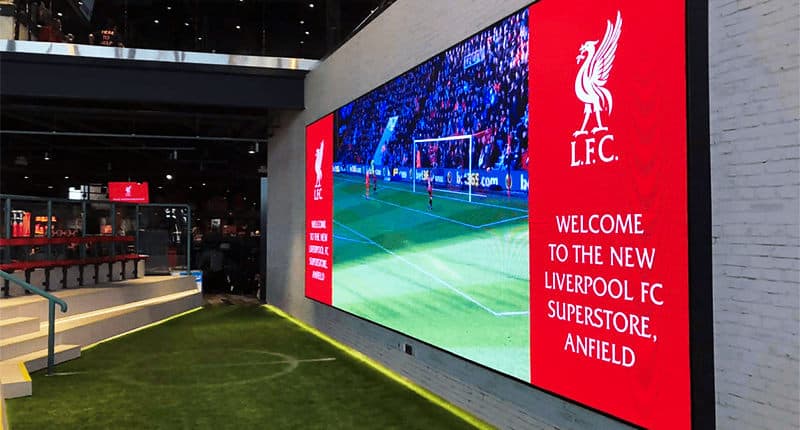 4K Equals More Pixels
4K, or Ultra High Definition (UHD) as it's also known, alludes to any display with a resolution of 3840 pixels by 2160 pixels. With a width that comes in just under 4,000 pixels, these displays have been dubbed 4K, boasting four times the pixels both horizontally and vertically than that of 1080p HD screens. This is the true differentiator between 4K and HD displays, as resolution reaped from more pixels encompassed within the same size screen delivers sharper, crisper imagery minus the pixelating effect.
High-Resolution LED Panel has a high definition and high contrast ratio to display your videos and images.
High-Resolution LED Panel sets the new standard for indoor display, especially in the 21st century. It uses high-quality LEDs to achieve a high-resolution display, vivid color, wide viewing angle, and hi-tech ambience. It features low brightness and high grey level (16bit), plus high color revivification degree.
Closer viewing can also show a Perfect Effect
With enough pixels to fill four Full HD 1080p screens, 4K screens can display four times the level of detail with higher contrast, particularly evident in fine images like hair or feathers which may look blurry in non-4K screens.
Ultra HD LED Display is an indoor-designed LED screen that utilizes high-quality diodes to perfectly achieve a high-resolution display, which means you can view and watch content from a meter to two and a half. Also, it features the actual color presentation to give the viewers an ultra-fine experience.
Why 4K is Ideal for Video Walls
Video walls enhance the ambiance of a space, creating a positive impact while providing the ideal medium to connect with team members, visitors, clients, and the public. From providing vital informational messaging or streaming live events, to marketing your brand or creating eye-catching vibrant imagery that stimulates the senses, it's easy to grasp why video walls are gaining in popularity at such an exponential rate.
High-Resolution LED Panel allows you to have an ultra-fine experience while staying indoors for your home use, business establishments such as restaurants, hotels, casinos, bars, and even government facilities. Its ultra-clear visuals bring closer viewing without flickers and distortions since LED lamps or diodes are positioned closer than conventional indoor screens.
Because beautiful, stunning imagery is the focus of your video wall, 4K technology is the perfect companion for these dynamic displays. 4K provides viewing experiences that far outshine standard HD capabilities, OneDisplay understands that the needs will never end and that the LED display industry will always set its foot forward towards multiple and simultaneous advancements. In the coming years, High-Resolution LED Panel will venture into more digital approaches, and that all sectors in the economy will benefit from it.
Positive correlation between cost and quality
Despite the high price of UHD displays, many forward-thinking companies and businesses have chosen to purchase them because the price is directly related to the results and benefits they can deliver. It is a good investment, especially for business and firm use, at the same time, it'll benefit you a lot!
So, How do choose 4k products?
To know which 4K display screen to choose, you have to learn how to choose properly. You should learn to take the following issues seriously.
Refresh Rate
Today's video entertainment is so advanced that most video sources are capable of 60 fps, and if your led display can't support a 3840hz refresh, then it won't be able to deliver the perfect dynamic effect.
Size and Viewing distance
When you determine the size of the led display, then the viewing distance is also an important parameter, the closer the viewing distance, we recommend choosing a smaller pitch led display so that the advantages of 4k UHD display can be brought into play.
HDR or High-Dynamic Range
SDR can display only 16.77 million colors, while the 4K HDR can display 1.07 billion colors. That's how huge the gap is. Overall image quality improvement – resolution, color depth, color gamut, contrast, and frame rate have all improved dramatically with 4K HDR, the resolution doubled, color depth and gamut have increased dramatically as well.
Network transmission and Signal Transmission
Having enough network bandwidth to support the 4k signal, as well as some 4k-enabled control devices, are some of the marginal costs of using an Ultra HD display, so be aware!
In the End
Our O-HD PRO Series Small Pixel Pitch LED Display Was Born To Replace LCD Video Wall, It is More Suitable For Indoor High-End Commercial Applications. It Provides Better Colors And Visual Experience With Gap free.
Our O-TILE Series has 250x250mm and 1000x250mm cabinet sizes that can be customized to build any size screen project. Cabinet weight 2/5.5kg, fast and easy installation, thickness 41.6mm only, smart and neat. High Refresh 3840hz, HDR-High Resolution, and High Grayscale.
Explore all the benefits of the O-Tile Series and O-HD PRO Series screen or learn more about why OneDisplay has been selected as the partner in a variety of industries for some of the most creative and innovative visual projects on display today.