OneDisplay stage LED screen is engaging and has high visual impact, uniquely designed as outdoor and indoor stage screens in events, trade shows, theater, TV studio, church, and more. It can be customized to meet your desired event screen outcomes.
The stage LED screen is commonly used to spice up attendees' and participants' viewing experiences. LED panels for set successfully make your show live and engaging. Also, it adds excitement, flavor, and theme to the whole area. Besides, it is not for decorative and display purposes alone but also for conveniently relaying a message, information, and other vital details to the public.
You can use a stage LED screen for a long list of events prevalent in today's time and generation. Concerts are the most common, while charity events, conferences, summits follow. You may also use the stage LED screens to upscale outdoor culminating activities at schools, universities, museums, cultural and heritage events, etc. It can come in various sizes, materials, specifications, and other features.
According to your stage applications, OneDisplay's know-how engineers researched and developed three main stages LED walls to fit your needs properly. First, an outdoor rental LED display is ideal for outdoor and indoor stage temporary use. Second, an indoor rental LED display is suitable for indoor short-period stage use. Third, an indoor fixed LED display is the best choice for the permanent installation stage.
What Are The Things That I Need To Know Before Buying Or Rental Stage LED Screens?
Permanent or Temporary?  Your answer to this question will help you decide whether to purchase your own or rent an LED wall for your stage. If you need it for a long time or use it continuously over a while, you might want to start considering contacting LED display manufacturers to provide you with a stage LED screen solution. It is to save time, effort, and money in the long run. On the other hand, rental must be an intelligent choice if you only use it for a single event.
Indoor or Outdoor?  You can use Flexible LED screens on stage in both indoor and outdoor events. However, it is essential to identify whether your event will be indoors or outdoors because outdoor LED screens require a higher Ingress Protection (IP) rate. The outside environment is harsher than the indoor environment. Therefore, your stage LED screens to need protection against substantial intrusions, dust, and water.
Close or Far Distance Viewing?  It is important to tell your stage LED screens provider whether your audience will be close or far from the location LED display. It will help you choose LED screen panels for the set with appropriate resolution. Also, it ensures that you provide your audience with a seamless and more vivid image displayed during your event.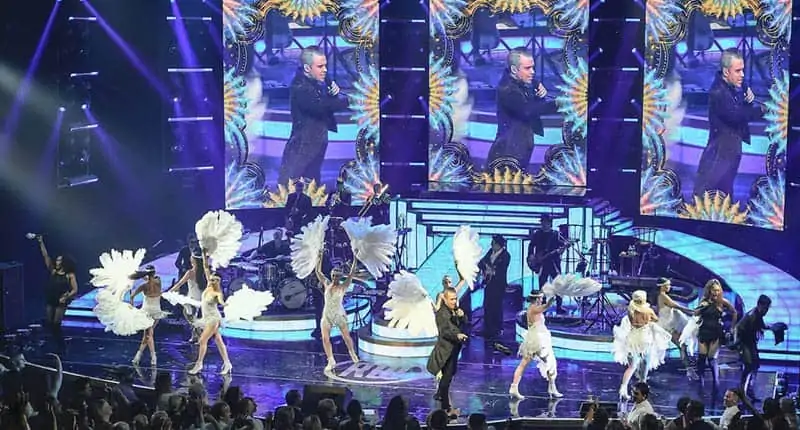 How To Calculate Stage LED Screen Size?
The standard and most commonly used aspect ratio for mainstream videos and displays is 16:9. For your stage LED screen, using 16:9 is perfect.
Aspect ratio is the relationship between the width and the height of digital images and displays. The first number refers to the width, and the second refers to the size.
A 1:1 ratio means your screen width and height are equal, giving you a square size screen. 2:1 means the height is twice the width; hence, you have a landscape screen. 2:3 is an example of a portrait screen where height is greater than the width.
For the screen height of your LED screen for a stage show, 1/6 to 1/10 target distance*(distance from the LED screen to the last row of audience)* is acceptable. Meaning to say, if the distance from your stage background LED screen to the last row is 30 meters, the height of your LED screen must be around 3 meters to 4.9 meters.
Why Is It Important To Consider The Pixel Pitch When Purchasing Or Renting Stage LED Displays?
Using LED screen stage design aims to provide your audience with vivid and clear images and video displays that they can enjoy during your event.
Pixel pitch is a vital element to consider because it is directly related to the ideal viewing distance for your LED display on stage so that you can give your audience an exciting audiovisual experience.
Likewise, you need to identify your audience's viewing distance because it is critical in determining which LED screen is perfect for the event. If your audience will be closed to your LED display, choosing an LED screen with a smaller pixel pitch is recommended. In comparison, a higher pixel pitch is ideal if your audience is far from the screen.
A pixel pitch of 1 (mm) millimeters to 3 (mm) millimeters or lower are recommended for close viewing LED display. And for LED displays used for outdoor events, 3 mm to 6mm or higher are commonly preferred pixel pitches.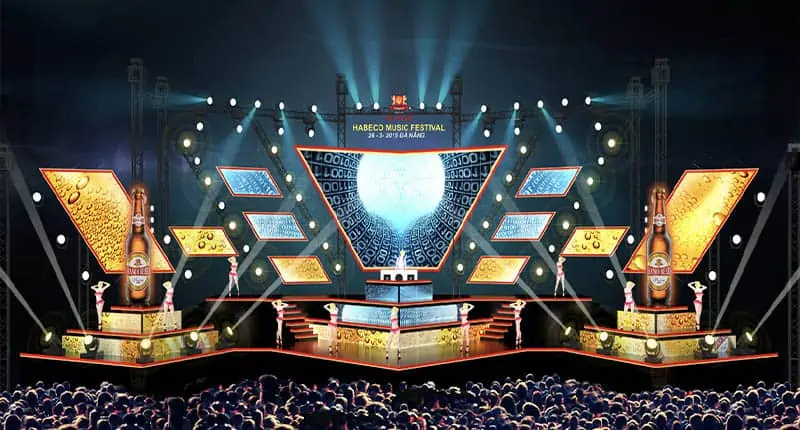 What Are The Advantages Of Using Stage LED Screens In Events?
Large LED screens for events are commonly used to spice up the show's attendees' and participants' viewing experience. Having big LED screens on stage gives you the following benefits:
Lively Stage Background.  The vivid color and brilliant effects it gives can help you pull off a spectacular show for your audience. You can have a more pleasing stage background which adds positively to the visual experience of the audience. Lively stage background also evokes wonderful feelings amongst the audience, which affects audience engagement and participation.
Optimized Visibility. If you are producing an event with big crowds like a concert, it is crucial to ensure that everyone has a close view of what is going on the stage via the concert screens. Installing a concert LED screen is a way to respect your audience's right to see and enjoy the show.
Decorative Illumination. Stage LED screens also provide a better lamination in your event. It helps set the environment's mood, which is vital in providing your audience with a one-of-a-kind experience and leaving a great impression.
How much does it cost to invest in a stage rental LED screen?
If you want to have a basic idea of how much you need to make your stage LED screen display, you may go to our website and tell us about your LED needs, and we will provide you with a price quote.
Our stage rental Led screen has many advantages, such as:
Modular Design for indoor rental use,
Corner Protection Design,
Flat and Curved screen(±15° Curve option),
Seamless Side Lock,
High heat dissipation efficiency,
No Fan, No noise.
We believe that our stage rental products can help you get more money opportunities!