Are you looking to buy some LED displays for a project? Or are you looking to invest in LED displays for your business? Shopping for this kind of gear can be confusing if you aren't fully informed about what makes the best solution for your needs. It's important to fully research types of LED display panels before you make any kind of financial investment, to ensure you're getting the best experience your money can buy.
When looking for an LED display panel, it can be tempting to pick the cheapest option possible and run with it. While a cabinet display screens are the cheapest video display option up front, you can actually save money in the long run by investing in a modular LED display panel.
Sometimes in life, it's worth it to invest a bit to save cash in the long run! When comparing these two types of LED display options, the benefits of choosing modular LED display panels become obvious. Let's explore the differences between these display types below, and the benefits of a self-contained modular LED display panel.
What's the Difference between modular and cabinet Led panel?
Before we dive into the benefits, let's break down the key differences between these two types of LED display module options.
A cabinet-less LED display panel, also known as a modular LED display panel, is an LED display screen that does not have any metal framing. They are designed to be thin and compact, with no need for bulky protection.
In comparison, a cabinet LED Panel is a panel that is bulkier, as the unit is not self-contained. While the bulk is there to add protection, it also makes the panel a lot more prone to damage, as there are more parts on the led screen to break.
Advantages of Modularity:
1. Efficient Operation
Self-contained modular panels bring the display's parts closer together. Electricity doesn't need to be carried as far as it does in cabinet displays, leading to less power consumption and less heat created.
The fixed LED display generating less heat means they don't require the bulky cooling units found in cabinet displays. By eliminating cooling units, self-contained panels automatically: Use 1/3 less power to operate than cabinet panels, Generate less heat, Have fewer parts requiring maintenance.
2. Less Maintenance
That's right! Your modular LED panel, as we touched on above, will require much less maintenance.
Less heat means fewer failures since fragile electrical components aren't being overheated. The sealed self-contained design also prevents dust and dampness from getting inside of the unit.
When maintenance is required, it's simple. The panel is removed and replaced – no lengthy diagnostic periods, no going back and forth for parts.
If a cabinet display needs to be replaced, you may be without a sign for weeks or even months.
3. Better Design
When it comes to tech, we want a beautiful, high brightness display and slim, sleek design. The bulky cabinets traditionally found in LED displays certainly do not fit this trend.
This is what makes a self-contained modular LED screen the perfect choice for an LED video wall, or a poster LED display.
When a company is spending thousands on content to display, they certainly don't want to see it on displays that look like they're a decade or two behind.
4. Step Into the Future
Saving money is important, but as a business, you need to invest wisely. The benefits of self-contained display panels – lower long-term operating costs, less maintenance, and aesthetic design – bring a value to your purchase that goes beyond that initial cost.
What can we provide?
Now, we Brings the O-Matrix series outdoor ultra-thin led display, O-Matrix's Modular design makes the panel size more flexible and available.
It is well known that most LED screens are designed by metric units (Like 1000mm*1000mm) in the LED screen market. But today, a breakthrough on the panel size by OneDisplay gave the birth to the O-Matrix with 2ft x 1ft panel size, designed exactly in feet. It shows texture and value through the metallic surface and unique design which make the cabinet more eye-catching.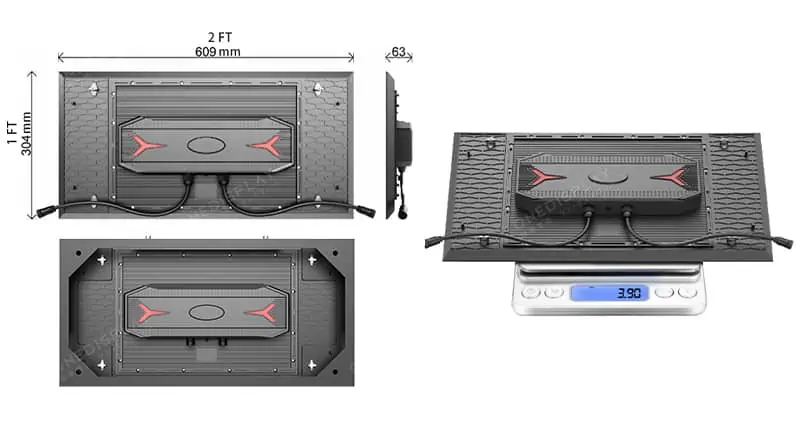 Moreover, thickness for 63mm including the module, only weighing about 3.9kg/pcs, which is the lightest one than any predecessors before. The O-Matrix series keeps up with the Times and makes its own characters at the same time.
Additionally, it has concise and easy design, only with one panel, one module, one receive card, one power supply, all in one! Only one technician can install one big wall. As everyone knows, the labor cost is really high in many countries. But The O-Matrix series can be your good financier, it has advanced locking system and minimalistic cable connector, easily locking the units on a simple framework, which all make your installation easier and faster, also lower your cost.
Meanwhile, the O-Matrix series also is a safety officer, with Cable-Free design, power and signal cables are integrated. Data and power cables are substituted by BTB connectors with strong stability. You will never worry about that children whether fall over themselves by the disorder cables entangled or whether someone gets a electric shock from the cable's electric leakage.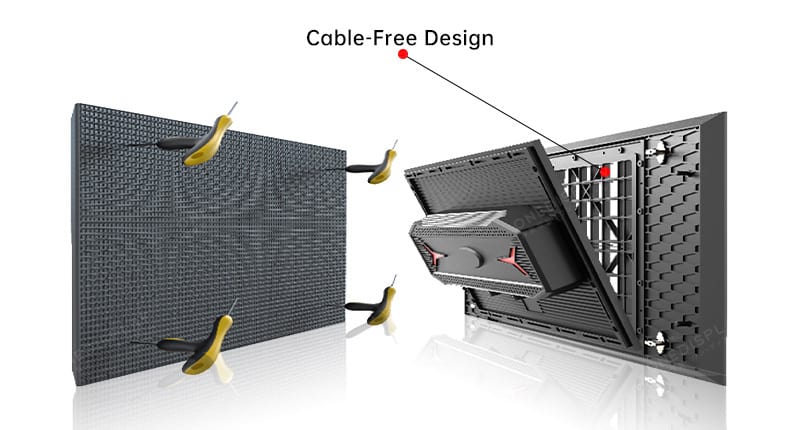 Furthermore, it's an ideal DOOH product with IP68 and fan-less design which applies to different environments: dusty roadside, humid seashore, scorching districts, rainy areas, etc. Fan-less design not only avoids the cost of fan maintenance but also saves money for the electricity bill. The panel can work freely without air conditioner even in the 55 degrees environment, which profits from its aluminum die-casting design in the back shell to quicken heat dissipation.
Thanks to the high contrast ratio, which boasts diversified and saturated colors with smooth transitions, the series is designed to display a high image quality even under direct sunlight, its brightness from 6000nits to 10000nits is suitable for any outdoor environment.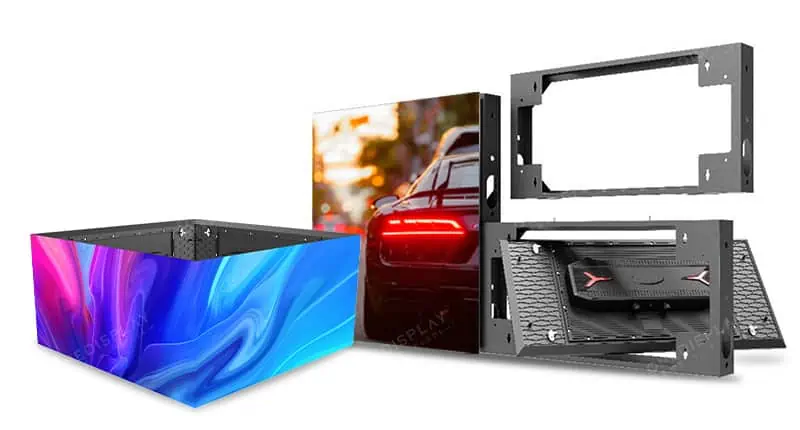 And at a 3,840Hz refresh rate and 24bit grayscale, no matter where it is installed, advertisers can be assured that vivid, eye catching images are guaranteed with the O-Matrix.
What's more, With 45°cutting angle design and seamless 90°angles assembled make the O-Matrix Ultra LED display cabinets show a visual feast and even display the Naked-eye 3D effect on a rectangle wall by its friendly design of the shell structure, creating a strong three-dimensional visual impact.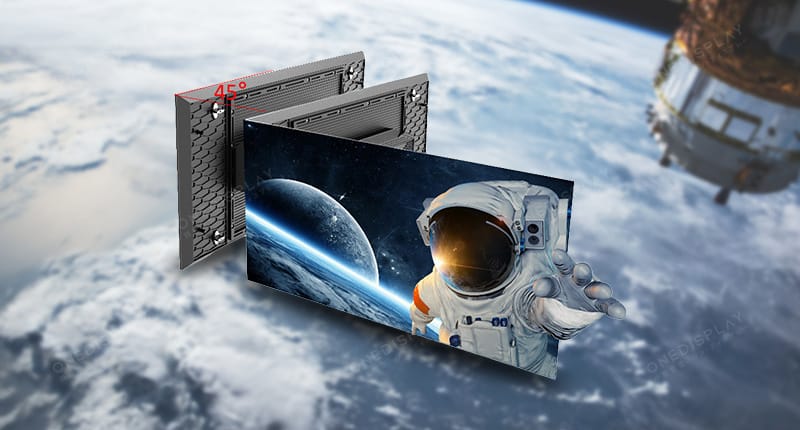 It is customizable for different sizes and shapes of screens to meet your needs. Modular design makes the panel size more flexible and available which facilitates you to use it to different application fields!
Let O-Matrix help you stand out in your business.