What is LED Display Control System
Also referred to as the LED control card or LED display controller, The LED display control system's main role is to enable the LED display to display the signal source's screen by transmitting the signal between the sending and receiver cards.
Based on the functionality and features, LED control systems are divided into two main categories:
1. Asynchronous LED Control System
Provided with single, double and full-color LED cards, this control system is capable of making its words true. Single color and double color types can only show symbols and texts while full-color LED control systems can even show videos, animation and graphics.
It is also named as offline LED card or offline control system that operates on the memory storage function. It is ideal for graphics or animations, symbols, text or video effects. Its main job is to display information with the help of a serial port or cables, which always has LED display frame memory to ensure quick and easy play. Users can also use its flash memory feature to save programs and sync them with the LED card so that the flash memory can display the respective program automatically.
2. Synchronous LED Control System
Designed to display graphics, notifications and videos in real-time, synchronous control system is a perfect choice for indoor as well as outdoor use. The major job of this control system is to manage synchronization of the LED display screen so that it can work at 60 frames per second rate along with dots to dots mapping on the computer monitor. Users are rest assured of getting a multi-gradation color display with amazing multimedia advertising effect. The worth mentioning fact is that its sync LED control card works with the controlling PC, instead of working separately.
They are many LED display control system companies on the market in China; some only focus on full-color LED screens, single color LED screen, synchronous control system, and asynchronous control system.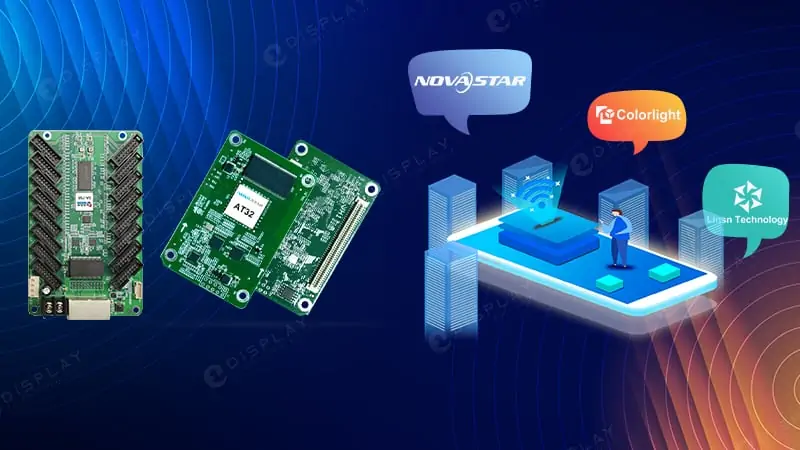 As professional LED display manufacturers, we put some reliable quality, good service LED display control system companies listed for your reference.
1. Novastar

Products Type: LED control system, Video processor, Cloud system
Established Year: 2008
Tel: 400 696 0755
Email: support@novastar.tech
WeChat: Novastar-support
Website: www.novastar.tech
First generation of NovaStar's Synchronous Control system N100 was installed on the 3,400 ㎡ main screen on Morgan Plaza for 2008 Beijing Olympics – which is still operating in its full functionality till today.
NovaStar Technology established in Xi'an, China, specializing in LED display synchronous control system.
Novastar LED control system prides itself for being efficient, performance-oriented and high in quality. It was because of its PCB material, full tech support, simple software operation, manuals and professional product designs that Novastar LED control system managed to grab a significant portion of the LED industry.
2. Colorlight

Products Type: LED control system, Video processor, Cloud system
Established Year: 2007
Tel: +86-755-86009353
Email: support_us@lednets.com / support_europe@lednets.com
Website: www.lednets.com
On July 23rd, 2007, Colorlight was established at Zhongguancun Science Park in Beijing
Since then, Colorlight has been dedicating in research and development of technology of LED control system, and dedicating in to create more value for clients
On September, the 1st Generation of Colorlight's full-color synchronous control system T7 was officially launched
Now, Colorlight is a national high-tech company that possesses core technologies in image, communications, and optics.
Products have been widely used in major events, commercial advertisements, stages, television studios, and business centers worldwide, providing more than one million users with various comprehensive solutions.
3. Linsn

Products Type: LED control system, Video processor, Cloud system
Established Year: 2000
Tel: +86-4008-836-968
Email: Ben@linsn.com / shashank.linsn@gmail.com
Website: http://en.lingxingyu.cn
Shenzhen Linsn Technology Development Co LTD, founded in 2000, is committed to developing and manufacturing high-tech products with tailor-made services.
The company has a solid base of technology and has powerful strength in various fields: LED display, Net-work technology, Computer software, Multimedia technology, digital terminal products, Net-work communication, Auto-control, etc.
Especially in the aspects of the hardcore of LED display technology–control systems, no matter software or hardware, have become the industry's actual criteria.
Linsn LED control system includes: full-color synchronism, full-color light decoration, full-color asynchronism, double-color synchronism, double-color asynchronism, etc.
And aslo Mooncell, SYSOLUTION, DBstar, Huidu Technology, Listen Vision these are also very nice companies, do not do a one-to-one introduction, interested can click into the official website to understand.
Conclusion:
LED display control system is a significant part of the LED display; quality and service are particularly important.
Now, most customers choose the brands Novastar, Colorlight, Linsn, mainly because they do good products and keep up with the service.
They have after-sales service point distributors that can meet the needs of different customers in many countries.
Of course, other LED display control system companies are also excellent; you can choose the right LED display control system company according to your habits or different needs.
Please leave your comments if you have any more recommended LED display control system companies to us.
Resource: What Is The Difference Between Synchronous And Asynchronous?