The Exhibition General Situation:
In the end of Aug and beginning of Sept, ONEDISPLAY visited the mainly two LED exhibitions this year in Shenzhen China——LED China 2020 and ISLE2020. The major party of the visitors this time were almost from domestic due to the COVID-19 epidemic, but we still be attracted by some new emerged LED products.
Let's go what we can get from the shows!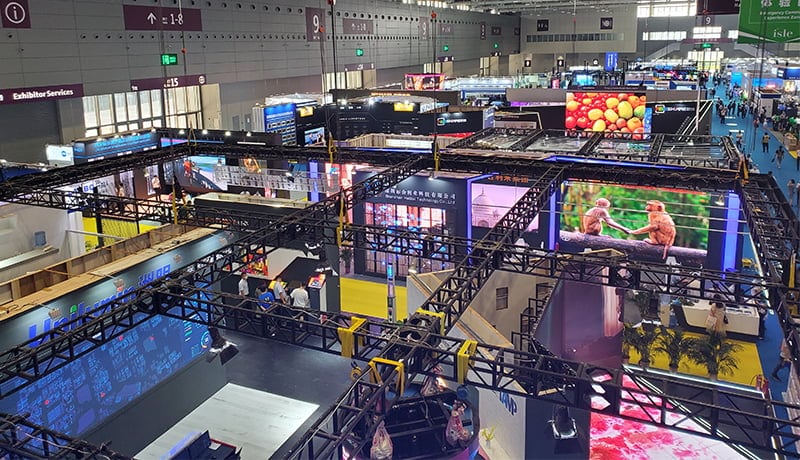 During visiting these two exhibitions, we found the mainstream products of this year in the market are Fine Pitch LED, Micro LED, OLED, Transparent LED, Customized LED, Traditional LED and COB, GOB, IMD, etc.
And thus these mainstream products are also as ONEDISPLAY mainly promotion in the LED market including Fine Pitch LED,Transparent LED,Customized LED,Traditional LED, special application LED and GOB technique, etc.
The exhibitors including the mainstream public LED companies and other major parties of this industry.
The Industry Situation:
Based on the data we collected, this year the mainstream encapsulation of the Fine Pitch LED are still SMD, inversion COB and COB.
However, there was a new encapsulation emerged this time used for the Micro LED like P0.9 which named IMD, we were known that it will be widely used for micro LED in future compete against COB.
As we know, the inversion COB encapsulation technology was widely adopted on P0.4-0.9 pitch LED by some LED licensers.
We looked around some of these exhibitors booth and acknowledged their products features and encapsulation techniques.
Such like the inversion COB products technique from an exhibitor's Infinity 2.0 series(P0.7~2.5), P0.8 8K data visualization solution, P0.4mm inversion COB(the smallest pixel pitch in LED industry).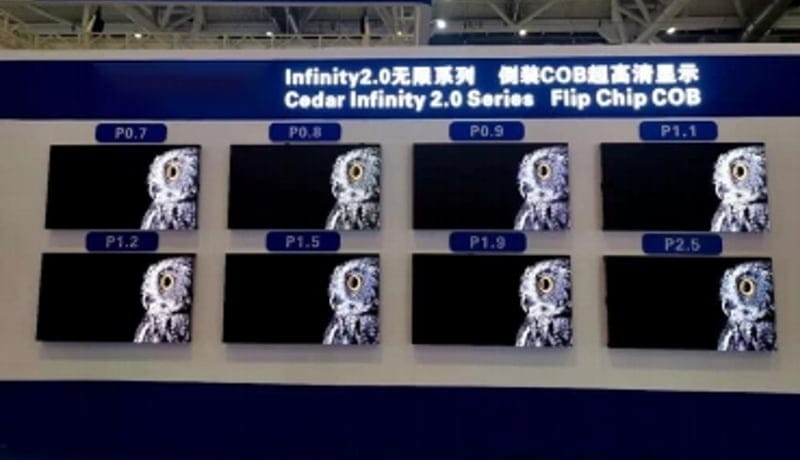 Core technology: UBP(Ultra-black Processing) ultra black baseboard encapsulation material processing technic microcrystal displaying technology, EHC(Ecology Human care).
We all know Ledman was the first one put forward COB conception and put their technique in a strong competitive products :
Micro LED super definition panel P0.6mm
Micro LED private home theatre P1.2mm
324inch Micro LED huge super definition LED display P0.9mm
138inch Ledman HUB smart conference room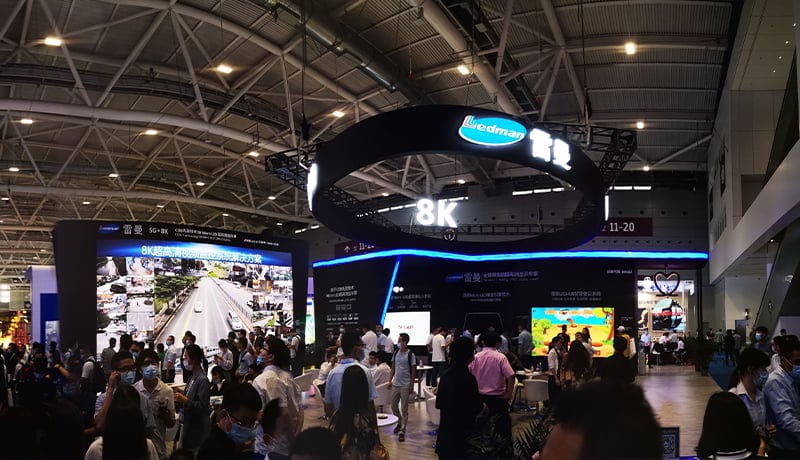 Core technology: sub-micron LED chip transfer technique, LED chip-baseboard linkage technique, Micro sub-micron LED chip fixing technique, etc.
However, as the public company, Ledman invested too much money and time into COB research and developing also market promotion. We totally believe COB products bid on a luxurious price because of its cost and company reputation, it will be destined as a very luxurious products for some special applications. That's why ONEDISPLAY pushed out GOB products as a replaced economic solution but better application effect.
Except of COB and GOB, we found some new similar product imitated these technique like BOB.
On closer observations, the BOB technique didn't show its unique and awesome effect, seems like it's just the market bluffing.
Meanwhile, we saw some other mainstream companies all showed their COB technique on Micro-LED.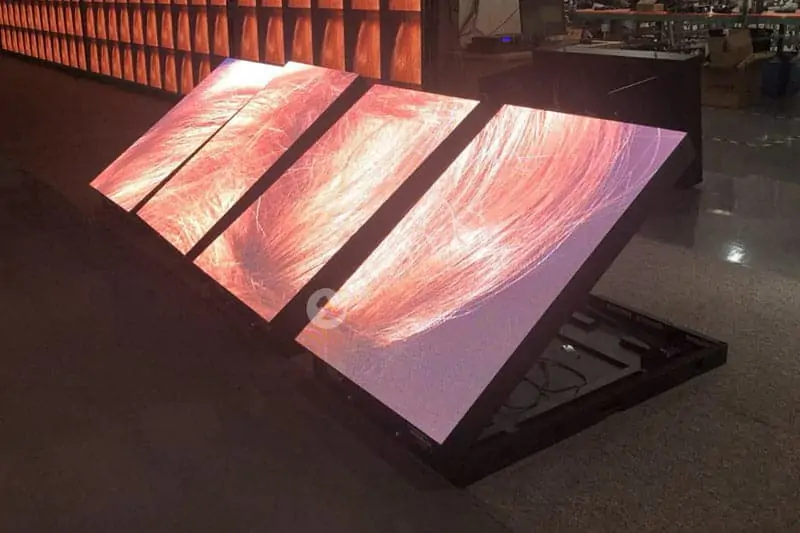 Undeniable, we came across more and more small pixel outdoor LED were very popular in some developing areas, it needs the lighter weight but higher brightness for outdoor and higher resolution on the limited screen size. That's why the small pixel outdoor LED signs like P3 has been developed very quickly recently two years and widely used for such these application.
ONEDISPLAY has exported 3 projects such like this LED signs to our Australia client with high brightness 7500nits and customized small size using for the Outdoor LED Billboard application.
The most interesting thing we met during the exhibition was there's a new encapsulation technique emerged using in micro LED called IMD, we investigated this technique.
IMD VS COB:
The contrast ratio and black consistency of COB were improved.( glossy, matte, half matte)
KingLight and BOE first time pushed out COB, BOE was OEMed by HCP technology.
Inversion COB was ubiquitous, this technique has been more and more mature.
As so far, the smallest pixel pitch is P0.4 from Cedar.
The result shows that not only COB, also the new tech IMD was still in researching and developing by some big players, that means the price cost is impossible on an acceptable range. Definitely this technique is still in developing so not a very mature and stable solution in the market. So ONEDISPLY is still keep in GOB technique products for its stable performance and mature quality.
The Rental Market
We saw the mainly rental products this time were displayed not only focus on normal traditional panels, also includes Transparent LED screen, Floor LED and Customized LED. It has a small changed compared before.
Like ONEDISPLAY main product also pay attention on Transparent LED and Customized LED, we always following the current mainstream and provide our new ideas and fashioned solutions.
FX: Mainly promoted Carbon LED screen, transparent LED screen, Column LED, mesh and P1.5 rental in the exhibition for the high-end optional. Elevator screen, Curve wave screen for the special places applications.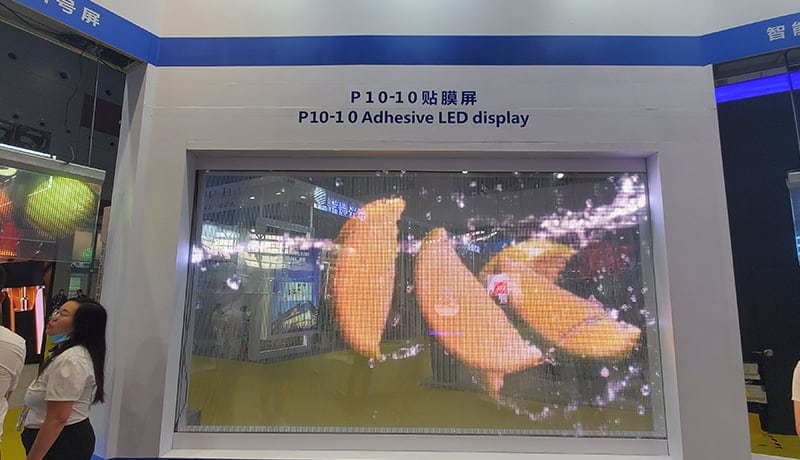 Transparent LED screen
The adhesive screen pixel pitch developed smaller and smaller to P2.5-5mm, this product can be clipped for customizing.
Definitely transparent LED also developed in to a very small pixel on P1.9mm.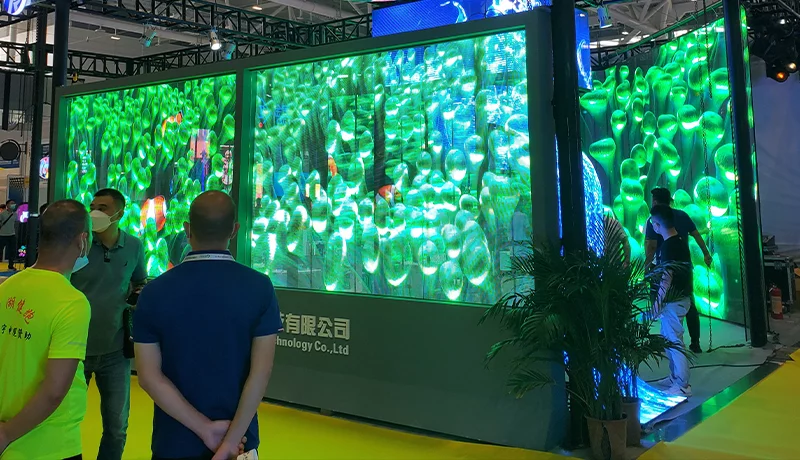 Market tendency forecasting
We concluded the 2019 data which indicated the LED screen market size all over the world been 6.85 billions USD, the fine pixel pitch LED(≤P2.5) occupied 38.23% achieved 2.62 billions USD.
Due to the COVID-19, we simulated the LED screen market was predicted declined 8% to 6.3 billions USD in 2020.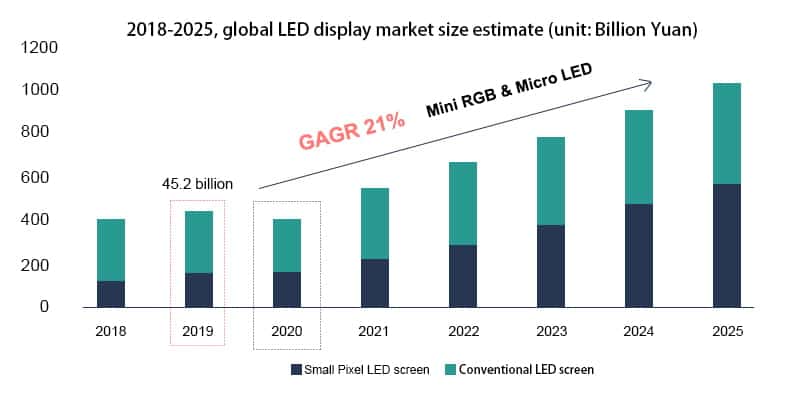 As so far, ONEDISPLAY is running in an active and earning growth way based on our stable products and cohesive correct judgement in the market, we always can find out what the clients preference need in the currently market and provide the most suitable products.
Mini and Micro LED
There will be variety encapsulation technique exist during next 3-5 years.
Traditional SMD encapsulation technique(≥P1.25), SMD GOB/AOB glue on board technique(≥P1.25), N in 1 SMD encapsulation technique(P0.6-P1.25), COB(P0.3-P1.25).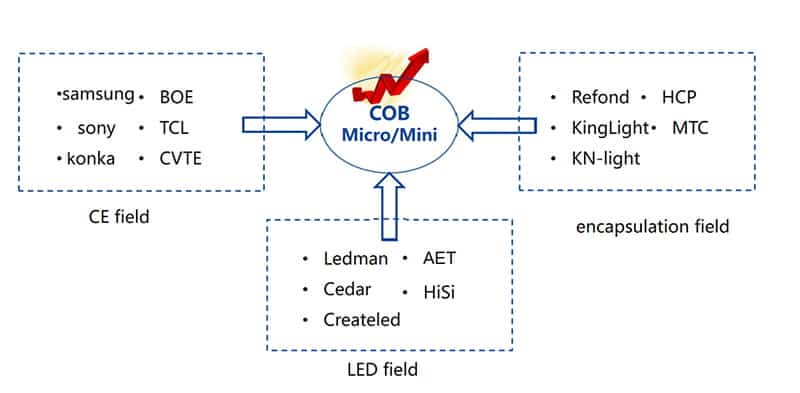 According to this chart, we can see External industry entering Fine Pixel LED market.Middle industry migrated.COB will emerge into a high speed growth stage but still in a long way to develop.
ONEDISPLAY will always keep watching this market and playing the right role, we will always improve our regular products excelsior and perfectly, and also developing the new inspiration solution products in a different way.