Your wedding is no doubt one of the most important and exciting moments in your life. For this special day, you may want to make it looks perfect by decorating your wedding with flowers, romance lights, or other decorations and making the food tastes great. Likewise, there is one additional great surprise for you – a wedding LED display that can make your wedding more memorable and colorful.
1.Top Graphical and Video Performance
LED video walls are designed specifically to present crisp, high-quality images with a brightness that is calibrated to deliver clear graphics regardless of whether they are used indoors or outdoors—even in direct sunlight. Advanced colour processing allows for deep, nuanced displays of stunning vistas, wild parties, beautiful dresses, and anything else you might want to show off to your guests.
Renting a wedding LED screen can be a great choice, We will need some display device to show our meaningful moments with our family and friends at the wedding, maybe some precious pre-wedding video clips such as the first anniversary of the couple and the childhood pictures with family members or friends.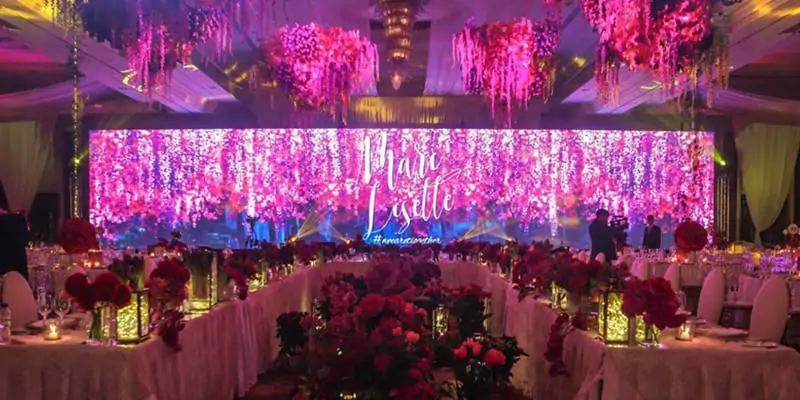 Moreover, a couple can also record a welcome video before the wedding for the guests which can leave a great impression. These ideas can not only touch the heart of every attendee but also make them find pleasures in the wedding.
2.Flexible and customisable
You can place your LED displays anywhere without putting too much effort to adjust it. It is adjustable and customizable as it can be built according to the required size. The only thing you need to do is just tell the sizes of the location to the people you can rent a LED display screen from and they will tell you the recommended options.
It can be more creative if you like, for example, it can be a curved flexible LED wall to show the images in a clearer manner no matter what angle the audiences have. The guests who sit at the back can also watch everything that is going and have a pleasant time.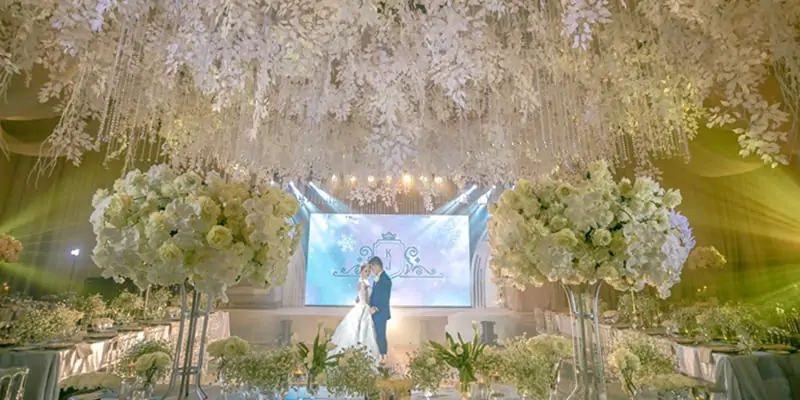 The best thing includes, wedding LED wall can be operated in every weather and every outdoor setup due to the high adaptability.
3.Unlimited Content Possibilities
Just imagine, with the colorful, beautiful and warm atmosphere the LED screen can create for you, this wedding can be like a fairy tale, leaving all people an everlasting impression, and all guests will enjoy the wonderful moments. Those who aim to have a fancy wedding will leave themselves and their guests with a great deal of happiness and entertainment.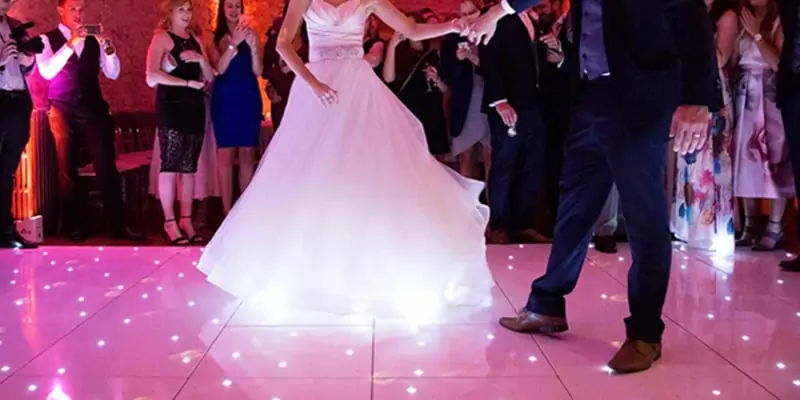 Besides, the events planners can have great benefits, for example, they can adjust wedding LED display as a backdrop of the couple when they are speaking or adjust is in a beautiful curved LED wall anywhere they find suitable, or apply a LED dance floor which will light up when guests stepping on it. This can contribute to the extraordinary experience related to audios and visualization.
4.Give a Front-Row Experience
With large weddings, If you choose a projection or TV for your wedding, they may not meet the requirement for the mass viewing simultaneously as the viewing distance. LED video walls are one way this problem can be solved, since their high-definition quality and streaming video support can turn any seating location into a front-row view.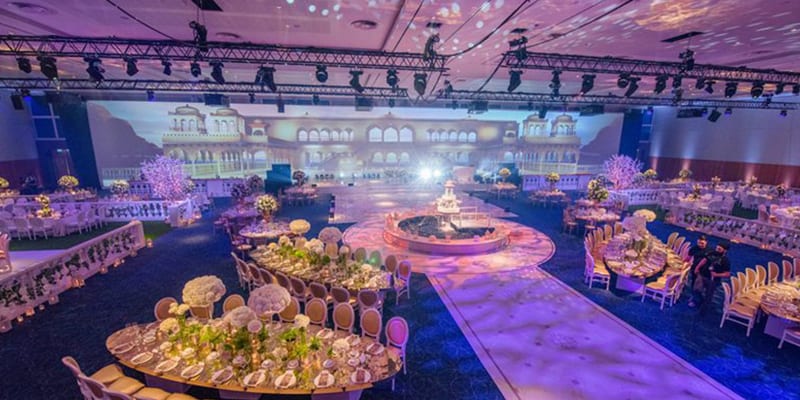 Suddenly, even guests at the back of the hall can share in the ceremony up close and view everything from the ruffles of the wedding dress, the pride in the parents' eyes, to the couple's loving expressions as they say "I do." If your reception makes use of a live band, LED video walls can be set up strategically throughout the hall so that every guest, from those on the dance floor to those sitting back and enjoying the music, can get the same front-row experience and enjoyment.
5.User-friendly Features
Operating a LED display wall can be easy and straightforward. There are no sophisticated principles but simple steps for you to connect your screen then display the content you want and use the multiple functions. You can even run your display just on your mobile phone.
Another great point about wedding LED displays is that you always have different connection options such as DVI, HDMI, VGA and HD-SDI, and it can support almost all kinds of media formats.
6.Durable and Versatile
LED video walls are an advanced piece of audiovisual technology, which might make you think that they are sensitive and fragile. But the truth is that LED video walls can be quite rugged and able to perform under a variety of conditions. These video displays can work their magic in a variety of temperature and precipitation conditions and are resistant to physical overstressing.
7.Cost-effectiveness
There are different prices for wedding LED screens and they depend largely on the LED screen size. And lots of options will provide for you to choose the most appropriate one according to your budgets and demands as there is a wide range of LEDs that can be selected.
Though LED video display can be large, it doesn't cost much energy as it seems like. It has less electricity consumption compared to traditional TV screens or plasma screens. You can keep the wedding LED video wall screen working for hours without worrying about much electricity consumption.
Ending
LED screen for wedding has many benefits which are mentioned above. It can also be rented by event planners or different professional companies who deal with electronic supplies. They have a wide range of LEDs and can be selected according to the requirement and with the best possible negotiation. No doubt opting for an LED screen for wedding can make a wedding most memorable and entertaining.
Hence, it not only satisfies the couple during their wedding but also bring happiness throughout their lives as one of the best memories. The trend of wedding LED screens has tremendously increased in recent years benefiting people as well as the companies selling them.
Read more: LED Wall For Churches, How To Help Your Church Thrive During COVID-19