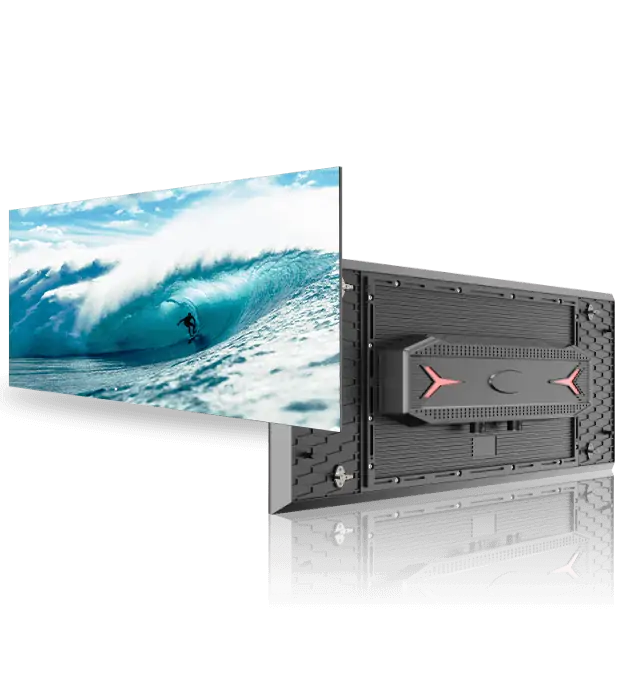 2ft by 1ft Outdoor Ultra-Thin Led Display
O-Matrix Series:
O-Matrix's Modular design makes the panel size more flexible and available: 8'*4'/6'*3′ or even customized, such as billboards, bus shelters, mobile signs, 90ºAngle Led Screen, etc.
Key Features:
1. 2ft x 1ft panel size, Designed exactly in Feet.
2. IP68 with both Flat and 90-degree angles.
3. High reliability, wide application, and brightness up to 10,000 nits.
4. Small panel size makes more flexibility on screen size.
5. Smart, light, and thin for labor-saving– each panel only 3.9KG. makes it very easy and cheaper to install.
Smart, Light and Thin
O-Matrix Series, with a 2ft×1ft panel size, the thickness of 63mm including the module, weighs about 3.9kg/pcs.
It shows texture and value through the metallic surface and unique design which make the cabinet more eye-catching.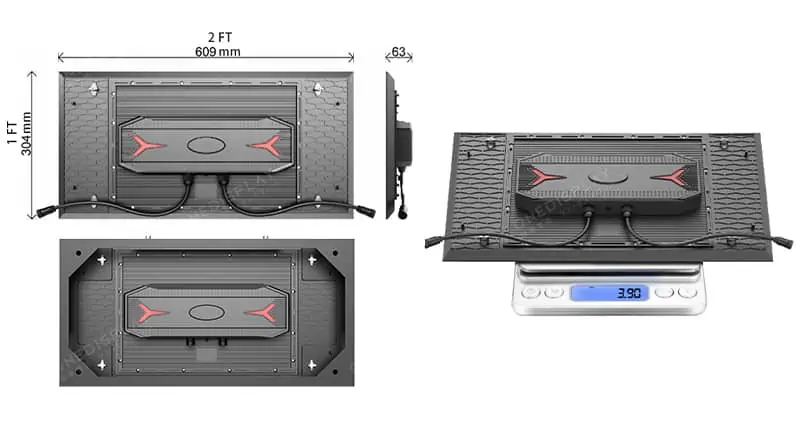 Simple and Fast Troubleshooting
Concise and easy design, each panel integrates power supply, receiving card, and module inside, which facilitates the modules moving,
especially for only one technician to maintain it immediately which helps you save a huge labor cost.
"Crazy" Heat Dissipation
The panel can work freely without an air conditioner even in a 55 degrees environment,
which profits from its aluminum die-casting design in the back shell to quicken heat dissipation.
Strong Reliability,
Various Applications and Brightness up to 10000nits
An ideal DOOH product with IP68 and fanless design applies to different environments:
dusty roadside, humid seashore, scorching districts, rainy areas, etc.
What's more, 10000nits is very enough for direct sunlight.
45° Cutting Angle Design
With 45° cutting angle design and seamless 90° angles assembled to make the O-Matrix Series Ultra LED display cabinets to show a visual feast,
With display the Naked-eye 3D effect on a rectangle wall by its friendly design of the shell structure, Create a strong three-dimensional visual impact.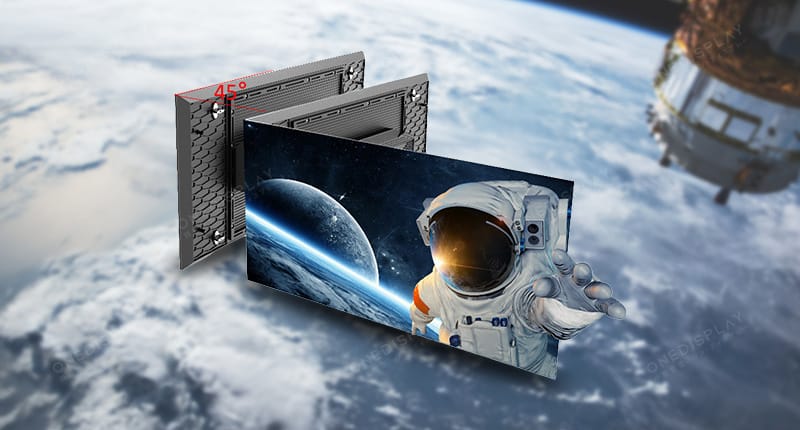 Low Mounting Cost
It has an advanced locking system and minimalistic cable connector, easily locking the units on a simple framework,
which all make your installation easier and faster, also lower your cost.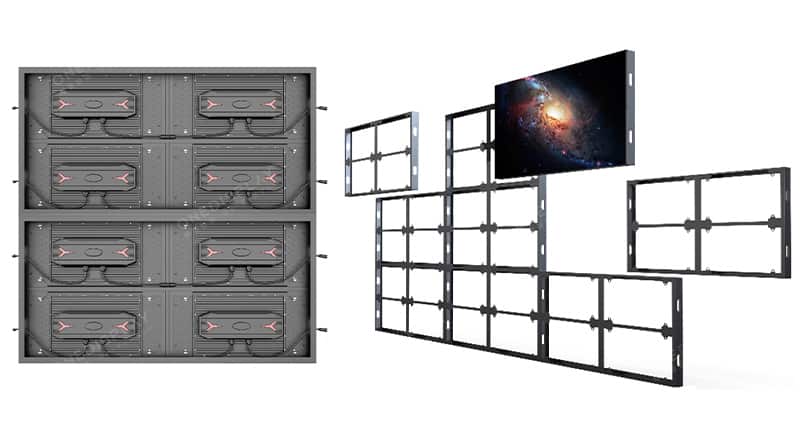 Cable-Free Design
Power and signal cables are integrated. Data and power cables are substituted by BTB connectors with strong stability.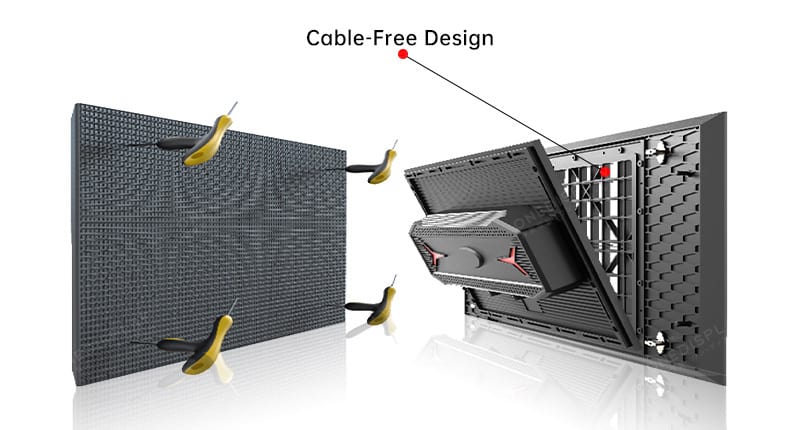 Flexible and Customizable
To customize different sizes and shapes of screens to meet customers' needs.
Customized aspect ratio: 4:3/16:9, Customized resolution: 1080p, 2k, 4k, 8k, etc.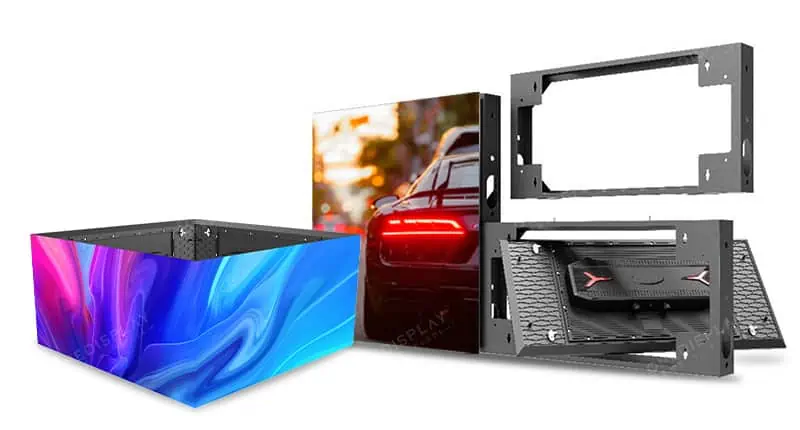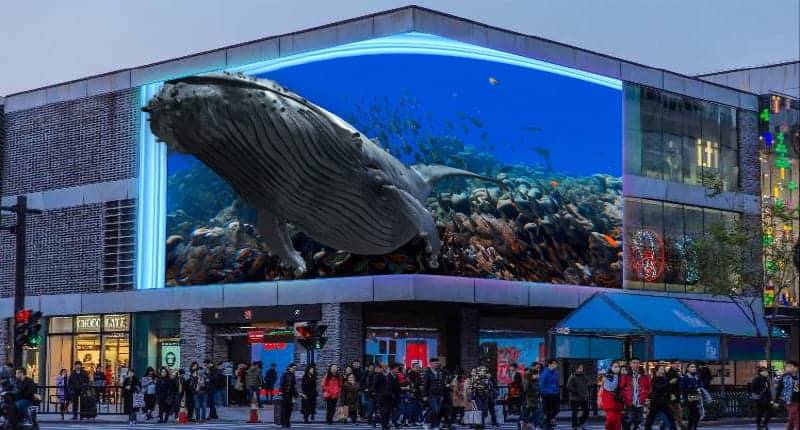 To ensure that you could make the correct solution, Please continue to read the following introduction and download our specifications. If you can not find what you are looking for, please contact us.
| | |
| --- | --- |
| Pixel Pitch(mm): | P4.7, P6.3, P9.5 |
| Cabinet Size(ft): | 2ft x 1ft |
| Brightness(cd/m2): | 6500-10000 |
| Key Point: | Smart, light, and thin for labor-saving– each panel only 3.9KG, IP68 Grade water-proof and dust-proof with both Flat and 90-degree angles Installs. |