At present, LED screen display is in the stage of development and growth. With the continuous development and maturity of LED display technology, in addition to traditional indoor and outdoor fixed installation and rental LED screen, many market segments have been derived, such as floor led screen, football field screen, creative led screen etc. The appearance of the creative LED screen is the inevitable result of the development and maturity of LED display technology.
The emergence of creative LED display screen has broken the rectangular display effect of traditional LED display screen, making commercial display better applied and promoted. It is widely used in various commercial occasions, such as bars, shopping malls, squares, performing arts venues, outdoor media, exhibition halls and other high-density crowd places.
As one of the most commonly used display products nowadays, LED display screen has many advantages over other kinds of products in brightness, color fidelity, energy consumption and so on. And with the development of technologies and aesthetic appreciation, the market has produced more demands for creative LED display.
So how we define creative LED screen and how they can benefit our business and life?
Definition of Creative LED Display
The creative LED screen is a special-shaped display screen that is cut and transformed on the basis of a conventional rectangular LED screen. It can well adapt to the overall structure of the building and the complex installation environment.
The size and shape of the Creative screen can be customized according to certain requirements to meet the creative inspiration of the designer, to meet the individual needs of customers, bringing the audience a novel and unique visual experience. In real life, you may see different special-shaped LED display, and the shapes include curved, diamond, spherical, brackets, magic cube, cylinder, etc.
In a word, it is no doubt a great display you can use to attract the eyes of the customers so to propagandize your events better, but also brings more functions compared with traditional ones.
Common Applications of Creative LED Screen
There are many types of creative LED display, maybe you just passed by one on the street. Now, let's see the typical kinds of them.
1) Flexible LED display or soft LED display screen.
This kind of LED display is bendable and can be installed at the curved installation site. Depending on the specific need, it can be spliced into curved LED screen, cylindrical LED display, floating ribbon LED screen and so on. They can be used in hotels, stages, shopping malls, sports stadiums, concerts and other places, especially where has irregular buildings and structures.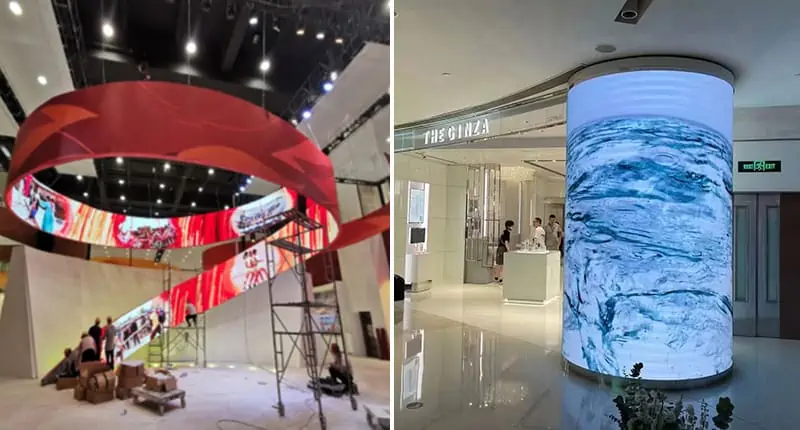 2) Transparent LED screen.
The LED transparent screen adopts stunning transparent glass display technology, which takes advantage of the business environments such as glass windows, glass curtain walls, large indoor shopping malls and other locations as far as possible. It can attract accurate customers quickly and accurately but maintain the original appearance of the location.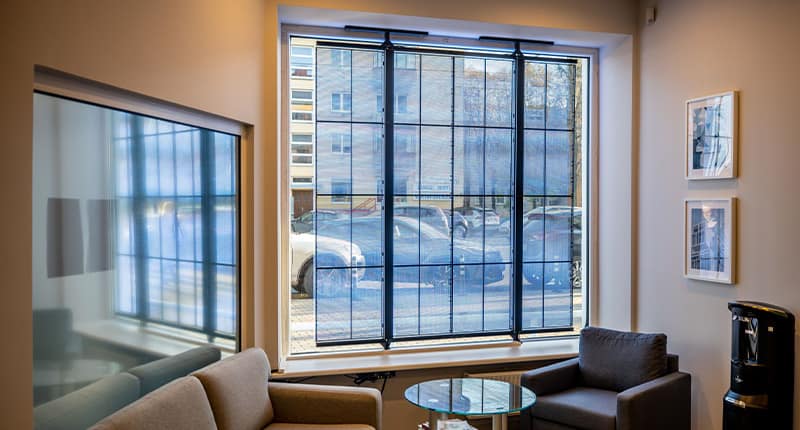 3) LED Cube display.
This type of LED screen has a fashion-forward appearance that draws people's eyes once they pass by. It has four sides to display content and so content possibility enlarged. The installation sites are various, too.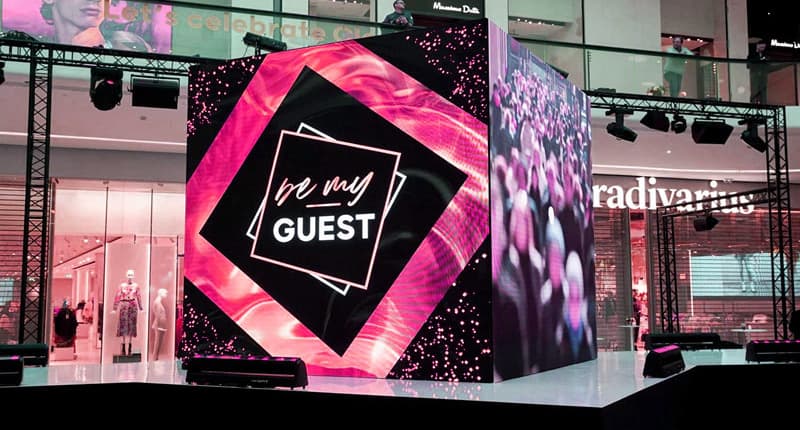 4) Dance floor LED display.
LED floor display means when people stepping on it, there will be a corresponding display effect on the screen. One of the best ways to control the mood and make sure everyone has a great time is to use an LED dance floor at your events. There are many benefits, and each one is just another reason that your event will go off without a hitch. For example, it can be fully customizable and can impress people deeply. If you have a LED floor display at your party, the whole video can be controlled by you. For instance, If you're going with a retro disco theme, everyone will already be in the mood because of the fantastic dance floor lighting, so they'll be ready for anything. And if you put one in your shops or malls, I believe it will leave an innovative impression for your customers.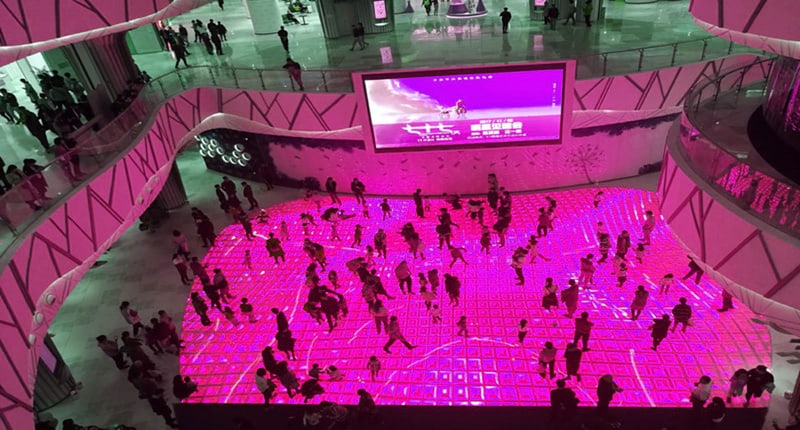 All these contain abundant creativity which will play the advertising role perfectly as they can catch eyes the first time with sufficient ability to show the detailed contents clearly.
Besides, The market for flexible led screens is expanding due to their ability to adapt to irregular surfaces, and they are well accepted and loved by customers.
So, What is a Flexible LED Screen Display?
In 1974, PARC employee Nicholas K. Sheridan made a major breakthrough in flexible display technology and created the first ever flexible e-paper display. In the late 2000s research and development of this type of LED screen began. Its main objective was to introduce this kind of technology into mobile devices. The idea has been consistent in evolving ever since. An LED is basically a level board display that uses light to produce diodes as the varying media shows. An LED display board screen is accessible in large and small sizes of visual impact production, depending on its use. A flexible LED display screen has a different appearance and feel than a conventional LED display board. This is made of rubber, and has an extremely flexible insulation layer on both sides of the frame. This material is designed to withstand extreme compression and is resistant to any kind of distortion that is very helpful in challenging installation jobs that require lots of twists and turns.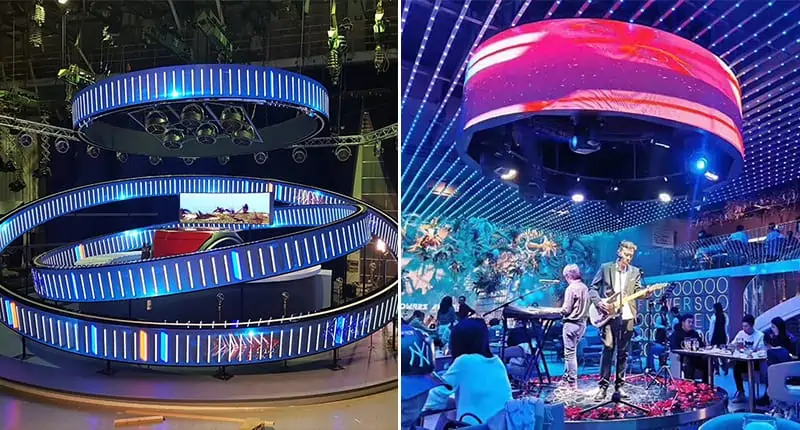 A flexible video wall consists of many foldable LED screens mounted together. It can take different shapes depending on how the individual screens are arranged. The flexible LED screen display panels are joined using magnets along their borderlines to create a seamless video wall display.
Advantages of Flexible LED Screen
Unique design, Advanced Artistic Sense
In the increasingly demanding market requirements. LED special-shaped displays pay more attention to structural breakthroughs. and are more inclined to occasions with special requirements. And now the Flexible LED Screen is very popular in the market, the product is soft in texture. the flexible led display can be processed into various irregular shapes according to customer requirements, to meet the requirements of all your projects. especially the various irregular buildings and structures.
Perfect Visual Enjoyment
Flexible LED Display because of its special shape design. the colorful scenes give audiences a perfect visual enjoyment, favored by the majority of customers. In this information age, how to make the advertisement stand out become the central theme in advertisement creativity.
High Flexibility
Flexible led screen wall is made of soft PCB and rubber material. It is extremely soft, can be made in any sizes and shapes for creative installations. Our soft led billboard has a compact body design. 0.4mm PCB thickness and magnetic connections. The flexible led video wall can be fixed easily everywhere.
High Stability
NSE led curtain flexible uses advanced SMT technology to reduce bad soldering and static electricity. resulting in a more obvious, delicate, and highly saturated reproduction effect of the displayed video and text. Besides soft LED displays have been subject to long-term aging tests. 10,000 bending and folding tests, 1500-days terminal market application, to ensure its stability.
Easy to Splice
The weight of a single led curtain flexible is the only 85g. it has strong magnetic installation, so fast to assemble and disassemble. and easy to maintain. The flexible led display has high quality. it can achieve single point maintenance with a low maintenance cost.
Easy to Install and Maintain
Besides it also has high brightness with low dead light rate and energy-saving. the flexible led billboard is seamless splicing with the control of splicing error between flexible led screen wall within plus or minus 0.1mm. this soft led panel saving 83% shipping and installation cost. it is very easy to maintain and replace most of the users.
Conclusion
As we have mentioned above, creative LED displays have outstanding ability in advertising and creating a different atmosphere. It can one of the best ways to highlight your events or advertisements.
First, it has an outstanding display capability. The unique design and colorful content, making it looks like a new type of thing that you can't often see in daily life, and that will arise the attention of people including your targeted customer group once they noticed it. And because of the vivid and interesting presenting method, the content on it will be read more carefully.
Second, creative LED displays can make your design concept prominent. For each creative display project, there should be careful listening and sufficient communication for the custom LED product. Then through these innovative media technologies and manifestation, the concept behind it can be delivered in visualization, fully demonstrated personality and cultural characteristics.
Third, creative LED screens can be a presentation of urban landmarks. It can be built based on the landscape, architecture and symbols of cities. From the artistic and aesthetic point of view, this LED display can integrate with buildings perfectly to beautify the ambient.
The End
In conclusion, the creative LED display not only embeds the core technology of LED display but also is rich in expressive force. Applying a LED creative screen to your program, it can stand out your business and events in a distinctive manner, then bringing benefits to you, maybe increasing customer traffic, or a lasting great impression of others on your events. Additionally, it is customizable and has various choices about shapes, functions and prices all depending on you.